Are You prepared?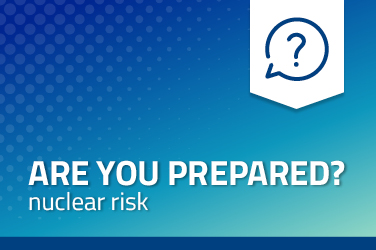 It is necessary to point out that not all accidents that occur in nuclear plants cause radiation that will be released into the atmosphere. The nuclear event may be contained inside the plant and pose no risks to the population.
For this reason, in the event of an accident, it is important to listen to television reports and to local radio stations. Local authorities will provide specific information and instructions.
The warnings will depend on the nature of the emergency, the speed of its development and on the quantity of radiation that threatens to spread.
In the short term it is advisable to
do not use the car: you would risk increased exposure to radiation and impede the transit of emergency vehicles;
Bring pets inside the building;
stay updated via radio or tv
reduce the use of mobile phones to avoid blocking phone lines;
use tap water unless expressly forbidden by the public health authorities 
change clothes before entering the place where you found shelter, and store clothes and shoes in sealed plastic bags and away from crowded places.
take a shower with hot water and liquid soap.
Take shelter in case of rain, and leave your umbrella, raincoat, and wet clothing outside.
Consumption of contaminated food and water
Consumption of contaminated food may lead to increased exposure to radiation, with consequent health risks especially when consumed for an extended period of time.
The competent authorities may recommend to eat packed food that is protected from radioactivity as long as it is sealed.
In case of contaminated drinking water the authorities can recommend the consumption of bottled water.
The health consequences of exposure are determined by the type of radiation, weather conditions (winds and rain), distance from the affected nuclear power plant, and the time factor to which the person is exposed.
Acute and immediate effects are more likely to occur in people working on the plant site. The risk of long-term consequences increases if the subject is exposed to massive exposures of radiation, for long periods of time.
In case of evacuation order it is important to adopt the following behaviors:
before leaving, close doors and windows;
keep the windows of your vehicle closed and turn off the ventilation system;
listen to the radio for information on evacuation routes and other useful information.
Public health authorities may issue an order requiring citizens living in the affected area to take shelter indoors, such as in homes or offices.
It is recommended to:
remain indoors;
close doors and windows;
turn off air conditioning systems and all external air intake systems;
move to a basement or underground location if possible
In case of dangerous amounts of radioactive iodine in the atmosphere, public health authorities may recommend the intake of potassium iodide (iodoprophylaxis) in tablets form, to protect thyroid from the absorption of radioactive iodine.
In case of pregnant or nursing women, potassium iodide tablets may be administered according to the instructions of the public health authorities.