Activities - Meteo Hydro Risk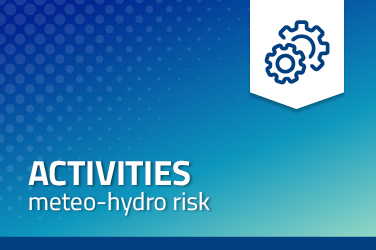 Over the centuries, Mediterranean coasts have been affected by numerous tsunami events arising from earthquakes. In view of the exposure to this risk of the Italian coasts, on February 17, 2017, the directive of the President of the Council of Ministers establishing the National Alerting System (SiAM) for tsunamis generated by earthquakes in the Mediterranean Seas was signed, under the coordination of the Civil Protection Department.
Within this system, the INGV - National Institute of Geophysics and Volcanology - operating through the Cat (Tsunami Alert Center) - has the task of assessing, in its area of competence, the possibility that an earthquake of magnitude equal to or greater than 5.5, with epicenter at sea or near the coast, may generate a tsunami and estimate the time of arrival of the wave along the different stretches of coast. The tideographic data provided by Ispra - Superior Institute for the protection and the environmental research allow to confirm or not the possibility that a tsunami will occur. On the basis of Cat evaluations, the Department of Civil Protection - through the Situation Room Italy - has the task of spreading the warning messages to activate, in the shortest possible time, the National Service of Civil Protection.
In implementation of the provisions of the Directive establishing the SiAM, on November 15, 2018, the Decree of the Head of Department containing the guidelines for updating the civil protection plans for the tsunami risk was published in the Official Gazette. The main purpose of the measure is to provide the various components and operational structures of the National Service with elements related to this specific risk and useful for civil protection planning, for the protection of the population along the coasts.
With regard to the SiAM, it is important to underline that, although scientifically accurate and rapid forecasting of tsunamis has accomplished significat progress in recent years, it is not always possible to issue a timely alert. Also, the assessment carried out by the Ingv Cat does not ensure the certainty that after the issuance of the alert, a tsunami will occur, and does not even ensure that the impact of a tsunami on the coast will be always preceded by the issuance of the alert message. Moreover, in the case of tsunamigenic earthquakes close to the Italian coast, the arrival of SiAM warning messages could take place in areas close to the earthquake point of origin, in insufficient time to activate preventive measures to protect the population. Therefore, it is fundamental that the citizen knows how to recognize the precursors of a tsunami event and knows the rules of self-protection. For this reason, it is important to start prevention activities, aimed at reducing the risk and disseminating knowledge of civil protection.