Activities - Forest Fire Risk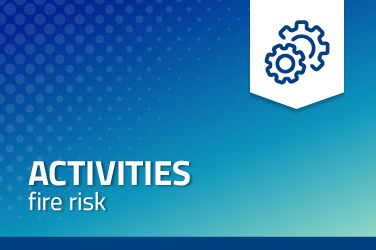 In Italy, the framework law on forest fires (n. 353 of November 21, 2000) entrusts the Regions with the responsibility of forecasting, preventing and actively fighting forest fires, while the State is responsible for contributing to the extinguishing activities with the State's aerial fire-fighting fleet.
The regions are responsible for the activation of operational rooms to allow the operational activation of teams for the extinction of land and regional air assets (usually helicopters) of forest fires, formed by regional personnel, volunteers and firefighters and, where appropriate, the intervention of civil protection. It is also up to the regions to develop and implement regional plans for forecasting, prevention and intervention updated every year.
The Department of Civil Protection, through the COAU - Centro Operativo Aereo Unificato (Unified Aerial Operations Center), is responsible for the coordination of the State's aerial fire-fighting fleet, which consists of Canadair CL-415 and S-64 helicopters owned by the Department of Fire, Public Rescue and Civil Defense, as well as other types of helicopters owned by the Defense Department.
The Coau is continuously active 24 hours a day throughout the year and is the Command and Control Center of all the aircrafts made available for the State's contribution in the forest fire fighting activity, planning and coordinating the flight activities both nationally and internationally.
In the forest fire-fighting activity, the Italian Air Force is in constant contact with the Regional Operations Centers (SOUP) receiving the request for the State air support when the regional forces (teams and helicopters) are not able to cope with the fire.
In order to reduce to a minimum the time necessary to reach the site of operations, it is essential to plan the ground deployment of available air assets. The fire-fighting aircraft and helicopters of the State air fleet are deployed on the territory taking into account the areas at risk and the weather conditions that make the start of forest fires more likely.
As far as prevention activities are concerned, these fall under the competence of the Regions which, therefore, also deal with this sector, involving the subjects in charge of the actual execution of the interventions, such as, for example, the Municipalities for the cleaning of the edges of municipal roads.